Combine Options to Suit Your Operations
From adding a port for connecting respirators to fresh air while in the booth to expanded reservoir air capacity for faster cycling capability, CCS Tempest booths and options will meet the clothes cleaning demands of your facility.
Your personnel will be pleased to have an easy, viable method to rid themselves of harmful dust, and keep it from following them to their vehicles, homes, and families.
---
Watch the Tempest WindDraft in Action:
Tempest WindDraft II
---

ETL Listed to comply with all UL and Canadian Standards.
---

Proudly made
in America
---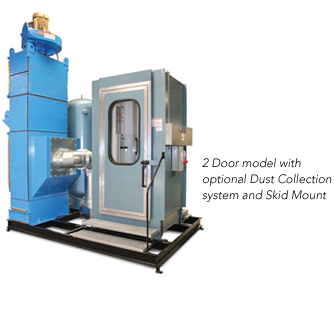 Tempest WindDraft™ Venting and Dust Collection Options
Various configurations of options, including customizable venting and dust collection options, will satisfy the needs of any plant or jobsite's clothes cleaning requirements. The following options and upgrades complement the basic equipment, which includes the Booth, 240 Gallon Air Reservoir Tank, and the Exhaust fan/blower:
Venting & Dust Collection Options:
Vent to Atmosphere: suitable for environments where dust can be returned to the local area, for example, jobsites and mining applications.
Vent to In-House Dust Collection System: applicable where the industrial/manufacturing plant has an installed dust collection system with excess capacity into which the Tempest system can feed.
Vent to Self-Contained Dust Collection System or HEPA Cartridge System: For applications where toxic dust must be collected and there is no "in-house" method of collection, either of these methods will provide the most efficient way of handling the liberated dust.
Dust Collection Systems:
Tempest HEPA Cartridge System uses disposable filters and is self-contained.
Dedicated Dust Collection System is a high-capacity, self-contained, self-cleaning filter cartridge system.
Upgrades & Options:*
Custom Skid Mounting for portability within a facility
400 Gallon Air Reservoir Tank to increase the air reserve for the next cycle
Silencer for reducing noise decibel levels
Electric Exit Door Latch for mandatory use before exiting the booth
Air Compressors and Generators for 100% autonomous, mobile or permanent use
Refrigerant Dryer and/or Dehumidifier to treat the incoming air
*Other Customizations Available.