Easy to Install, Customizable Configurations
Tempest WindDraft dust removal and decontamination booths offer customizable equipment and installation configurations that accommodate various workflow and productivity needs; industry-specific safety/health compliance standards; plant/site layouts and local environmental requirements.
All Tempest WindDraft models are easy to install and most of our clients' in-house staff have sufficient expertise and resources to install our booths without outside assistance.
---
Watch the Tempest WindDraft in Action:
Tempest WindDraft II
---

ETL Listed to comply with all UL and Canadian Standards.
---

Proudly made
in America
---
Tempest WindDraft™ Models
The basic equipment includes the booth, 240 Gallon Air Reservoir Tank, and the Exhaust fan/blower. Booth entry- and exit-strategy will determine which of the two basic designs is most beneficial for your workflow. Venting and dust collection options are also dependent upon your specific requirements.
See venting and dust collection options here.
Tempest WindDraft I
1-door dust and decontamination booth equipment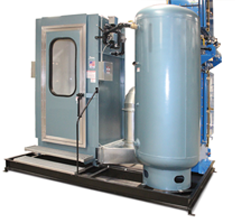 Decontamination booth with a single-door is perfect when space is limited and/or workers may be going immediately back into the affected area.
Tempest WindDraft II
2-door dust and decontamination booth equipment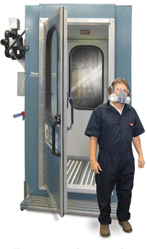 Entry and exit doors allow for installation on exterior or interior walls, which is especially useful when the entry area is contaminated and the exit area is clean, such as an office, lunch room or locker room.
The two door model is the best solution for operations with a higher number of workers. The pass-through design reduces time between cleanings by optimizing foot traffic.
Tempest Mobile
1-door or 2-door dust and decontamination booth equipment mounted in trailer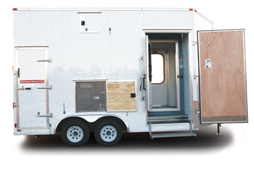 The equipment is mounted inside an enclosed trailer. Available in one-door and two-door options, the mobile unit is ideal for job sites, quarries and any outdoor application. If a plant's interior space is limited, the unit may be installed permanently outdoors where workers can access it before entering the facility.